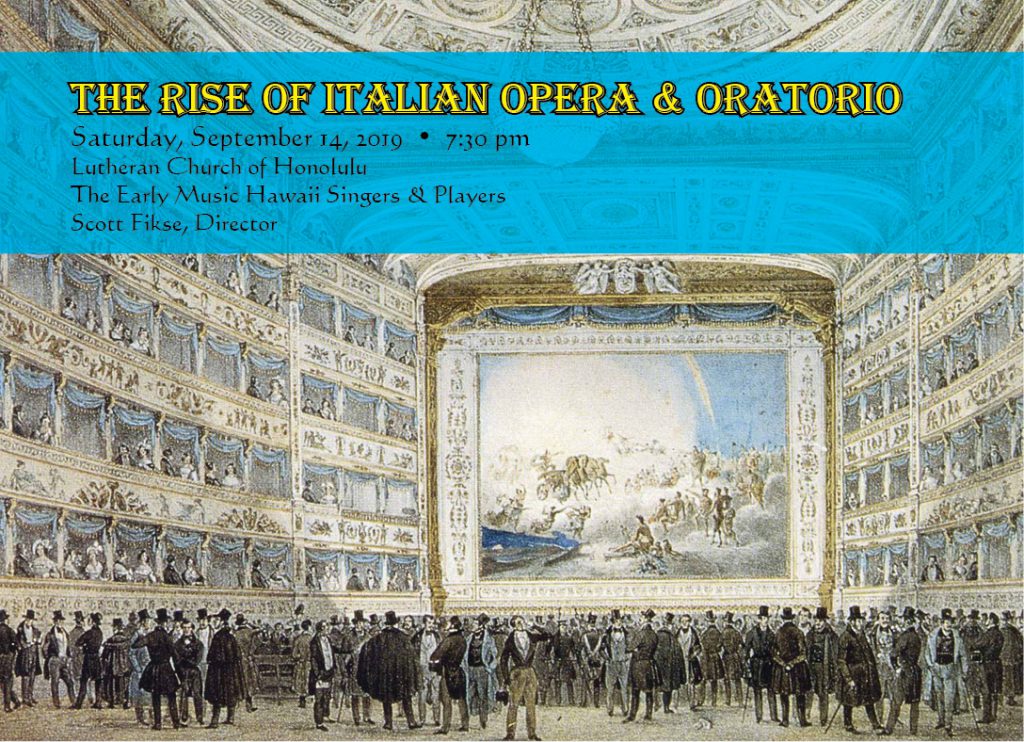 Claudio Monteverdi led Italian music to a new level of dramatic expression in the early 17th century. His brilliant second opera of 1608 L'Arianna is lost, but he later arranged Ariadne's famous lament as a searing madrigal for five voices and continuo. We follow with excerpts from his last opera, The Coronation of Poppea, a drama of love and betrayal by the Emperor Nero, and the first opera to portray real humans in power.
Sacred drama borrowed from opera to tell the stories of Biblical figures in cantatas, dialogs and oratorios by Domenico Mazzocchi, Alessandro Stradella, Cristoforo Caresana and many more. Mazzocchi's dramatic Dialog of Lazarus opens the second half of the program, followed by a solo cantata by Stradella, and Caresana's "Christmas Theater."
Saturday, September 14, 2019 • 7:30 pm
Lutheran Church of Honolulu
1730 Punahou Street
The Early Music Hawaii Singers and Players
Scott Fikse, Director
PURCHASE TICKETS
Please donate to Early Music Hawaii.
Your donations are greatly appreciated.
You may also send checks to:
Early Music Hawaii
P. O. Box 632
Kailua-Kona, HI 96745
Early Music Hawaii is a nonprofit, 501(c)(3) organization, and your gifts are tax-deductible.