Diderot String Quartet with Harry Bicket
Premiere, Friday, March 12, 2021 at 7:00 pm
Available through Sunday, March 21 at 10:00 pm
This program has now been completed.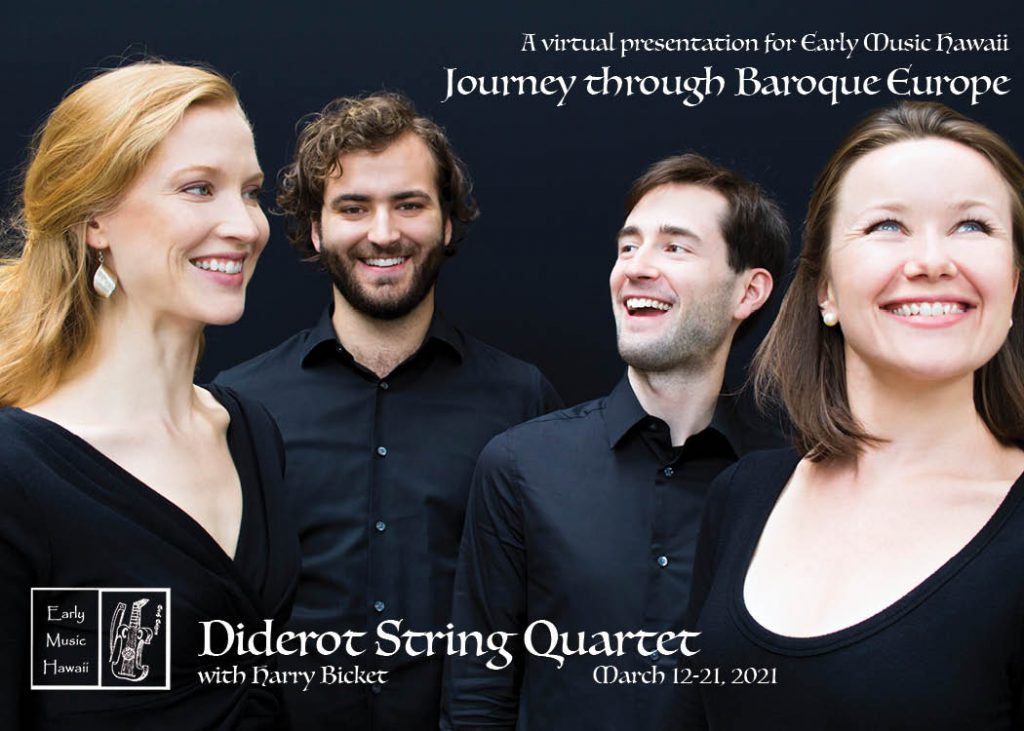 Come along with the Diderot String Quartet joined by Harry Bicket on a journey through Baroque Europe. Full of unexpected surprises, the Baroque period, which spanned the entire 150 years from 1600 until 1750, was much more than Corelli sonatas, Vivaldi concerti, Handel's oratorios and the brilliance of Bach. The fertile soil from which the lasting and known masters burst forth was being vigorously and frantically cultivated by burgeoning musicians from all corners. It was a time of wild experimentation. Much of Baroque music remains shocking to this day – and stunningly beautiful.
Diderot String Quartet—named after the eighteenth-century French philosopher and Boccherini enthusiast Denis Diderot—brings a fresh approach to works of the eighteenth and nineteenth centuries. Called "emotional, riveting, and ultimately cathartic" (The Wall Street Journal), Diderot came together in 2012 after having first met at Oberlin Conservatory and The Juilliard School. The four musicians share a background in historical performance and a passion for the string quartet genre; they found the thrill of exploring the quartet repertoire on period instruments to be irresistible.
Program will include music by Castello, Biber, Krieger, Muffat, Gabrieli and Durante.