Premiere, Friday, March 12, 2021 at 7:00 pm
Available through Thursday, March 18 at 7:00 pm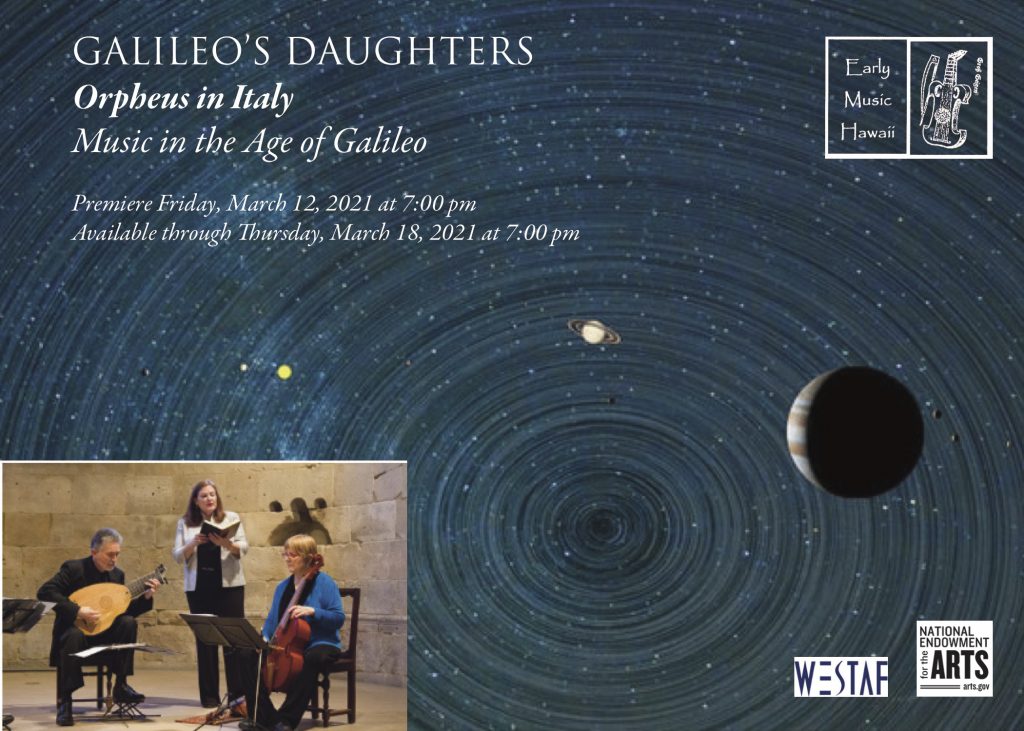 Orpheus in Italy
Music in the Age of Galileo
Director and soprano Sarah Pillow, Mary Anne Ballard, viola da gamba, with lutenist Ronn McFarlane as Vincenzo Galilei, perform works by Monteverdi, Dalza, Caccini, Frescobaldi and others from the age of scientific discovery at the turn of the 17th century.
​"After the concert…I found myself gazing up at the night sky and its myriad stars with a new appreciation for the music of the spheres and the harmony of the world." – Santa Cruz Sentinel

GALILEO'S DAUGHTERS was founded by soprano Sarah Pillow in 2001 to present a different kind of early music recital that combines music, spoken word and the visual arts to create thought-provoking and intriguing programs. Praised for her "gorgeous" singing (Sunday London Times), Sarah and Mary Anne Ballard, viola da gamba, along with special guests, present performances that clarify the vibrant relationship between science, the arts, human thought and faith. Their program, "Perpetual Motion: Galileo and His Revolutions" describes the remarkable moment in history of science, human thought and music, with narration by acclaimed science writer Dava Sobel.
Past performances include: The University of Hawaii, Honolulu; The Cloisters, NYC; The Santa Cruz Baroque Festival, CA; Vassar College; Smith College; Hamilton College; University of Michigan Ann Arbor; University of Wisconsin-Madison; Early Music Society of the Islands, Victoria, B.C.; and The Flint Institute of Art.